Portable Mini Golf Rental Chicago
9 Hole portable mini golf for rent in Chicago. Our indoor or outdoor portable mini golf course putt putt rentals in Chicago is a fun for all ages. Play a round of Golf with our Portable Mini Golf Course Rental. Our Led portable mini golf rental takes mini Golf rentals in Chicago to the next level. It features 9 holes of varying designs and levels of difficulty. Hole 9 also has windmill!
Play-A-Round Golf is designed for patrons to walk around the putting surface, preventing their movements from disturbing the ball and since the surface is it results in a smooth playing surface. Bounce Houses R Us has the best choice of portable mini golf Chicago options for large events. We have a new 9-hole mini golf Chicago for rent.
Mobile Mini Golf Rentals in Chicago
We rent indoor mini golf in Chicago. We have a portable putt putt mini golf 9 hole indoor or outdoor mini golf for rent in Chicago. Play a round of 9 Hole mini golf on our portable golf course that features 6 different obstacles. We deliver to Chicago and over 32 Chicagoland suburbs.
Mini Golf Chicago
Looking for some fun friendly competition with the fun of golf? Try our portable mini golf Chicago. Get your golf swing ready and grab your putter and join the fun of playing a round of mini golf rental Chicago. At Bounce Houses R us we offer a variety of options for any event like out hole in one challenge, 3-hole mini golf, 6-hole mini golf, or a full 9-hole course. No need to go to the mini golf course in Chicago we bring our portable mini golf to your party location.
Our mini golf Chicago feature Led lights on all the holes. Our led mini golf if perfect for glow parties. You can enjoy our Led mini golf any tome of day as you can use it partial light of in darkness.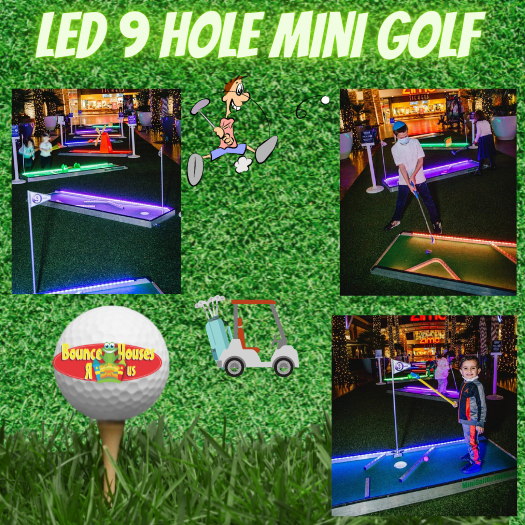 What events are good for Mobile Mini Golf?

Our golf on the go rentals in Chicago is bought to all kinds of events, We have set up our portable mini golf in Chicago for
After prom Events
Adult Birthday parties
Bachelor Parties
Bachelorette parties
Bar/ Bat Mitzvahs
Block parties
Birthday parties
Carnival days
Church Events
Corporate picnics
Corporate events
College events
College graduation parties
Country Clubs events
Day cares
Graduation Parties
Lock-ins
Pre Schools
Post Proms
School events and many more.
Shopping centers Mini Golf Chicago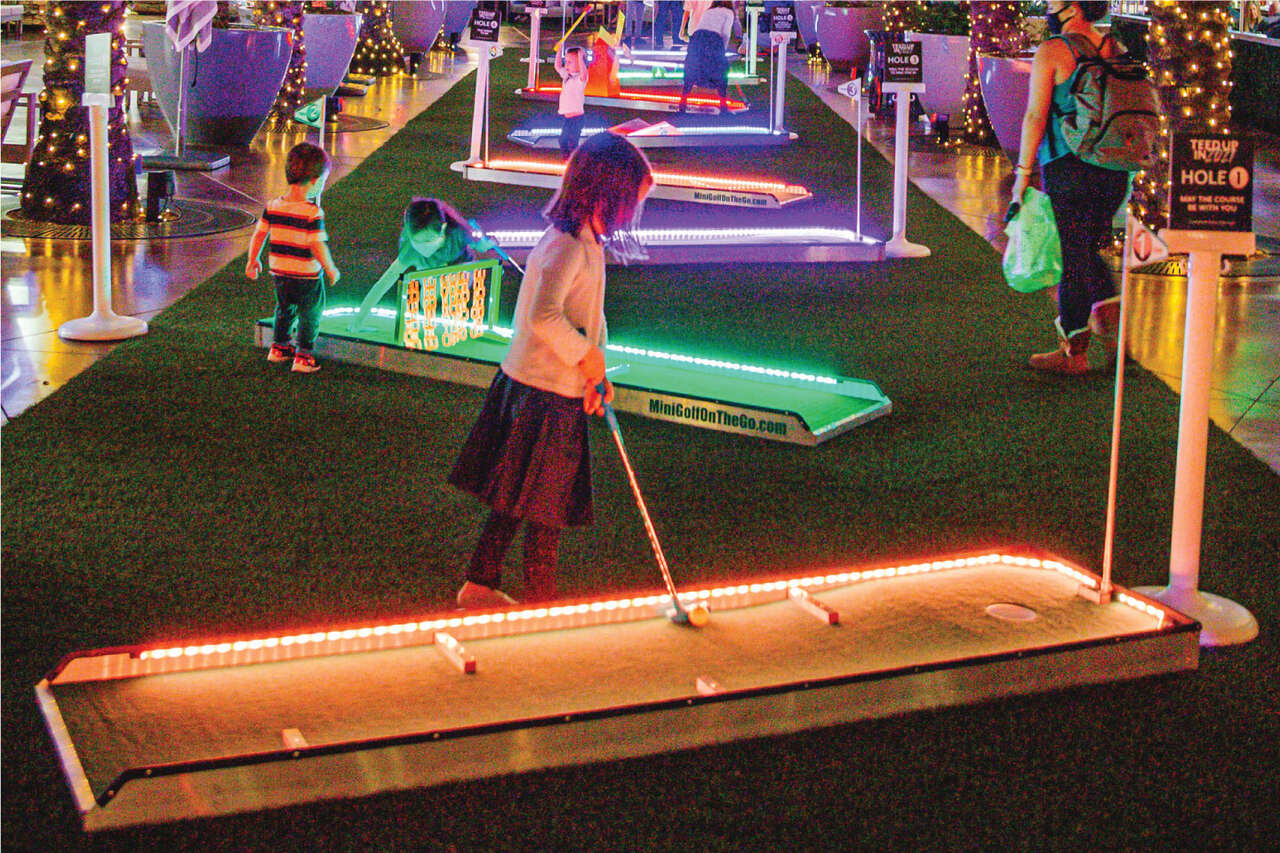 Portable 9 Hole Mini Golf Course Rental Chicago
Mini Golf that comes to you!! Chicago's Portable Mini Golf Experience that comes to you and over 32 Chicagoland suburbs. Our 9 hole LED course in perfect for you next event. Tee up for fun at your next event. Potable mini putt putt golf course is a 9 hole course that can be used indoors or outdoors at your home, church event, school event, business, or wherever you would like to play a round of golf and try for a hole in one.

Our traveling miniature golf course is loved by all. This is perfect for all ages. We bring all that you need golf clubs and balls no need to travel because we bring the fun to you. You can Putt Putt day or night. Our top of the line portable mini golf course features stunning self contained Led lights for daytime or nighttime use. We can set the LED to different colors or to the theme color of your event. Our colorful LED lights make for amazing glow in the dark event mini golf experience.
Portable 9 Hole Mini Golf Rental Chicago
Tee Up For Fun At Your Next Event in Chicago
Mini Golf on the go is Chicago's mini golf course that comes to you. Our 9 hole course can be used indoors or at outdoor events at your school, church, office, your home, or wherever you would like to play a round of golf and score a hole in one.
*A golf game good for everyone and perfect for all ages
*We bring what you need clubs and golf balls
*Course includes challenging obstacles
*No need to travel we come to you