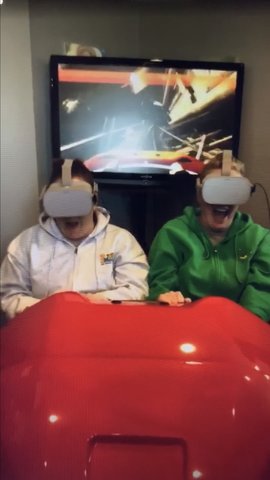 Virtual Reality Roller Coaster 2 hours
Virtual Reality Roller Coaster Rental
Bounce Houses R Us Party Rentals Chicago, Il
Bounce Houses R Us offer this amazing new Virtual Reallity Roller coaster. The VR Coaster rents our for $795.00 for the first two hours with unlimited rides and then $225.00 for each additional hour. This coaster allows 2 riders at a time to experience the thrill of over 28 different roller coaster rides that will be perfect for all age levels and experience levels. This coaster will keep the biggest thrill seekers entertained and asking for more, but also offers rides that are good for toddlers, school age, high school, college age and even adults. There are so many coaster programs to choose from that will customize the experience to the rider. The Virtual Reality Coaster is a complete virtual reality roller coaster simulator with awesome visual sceneries, scenarios, vibrations, and even wind. No matter which way you turn, you will see something different and can look at a 360 degree view all around you while in the coaster. You will feel like you are on a real coaster and even find yourself screaming and moving from side to side just like you would in a roller coaster. This ride is just as much fun for spectators to watch the riders enjoy and react to the ride. Bounce Houses R Us has your virtual reality need met.
What is virtual reality?
Virtual Reality (VR) is the use of computer technology to create a simulated environment that is realistic to the user. Unlike traditional user interfaces, VR places the user inside the ride or experience. Instead of viewing a screen in front of them, users are put into the scenario to interact with 3D worlds. By simulating as many senses as possible, such as vision, hearing, touch, even smell, the computer is transformed into a gatekeeper to this fake, but realistic world or experience. The experience is so realistic that users will find it hard to imagine they are not actually within the scenario they are living out. All around you will be a different scenery and experience for each second of the ride.
Ready to Book the Virtual Reality Roller Coaster?
When you are ready to rerve the coaster, simply click on the add to cart button below, select your date and times, and follow the directions to complete your order and pay the required deposit. The VR Coaster rents by the hours with a two hour mimimum. The price listed is for the first 2 hours. Each hour over the first two hours will be priced at $225.00 per hour. If you need help completing your order or just don't like booking online, please do not hesitate to contact us by phone. We are always available to assist our customers and would be glad to assist you here at Bounce Houses R Us.

Turn up the heat with this new coaster! All ages will love this new attraction. There are over 20 different rides to choose from to offer rider friendly options for all age levels. The scenes you will see are amazing!!
Our Virtual Reality Coaster Rental Comes with the following:
1 Attendant
one tv on a stand
one roller coater car that seats two
2 VR goggles
Rental is based on 2 hours