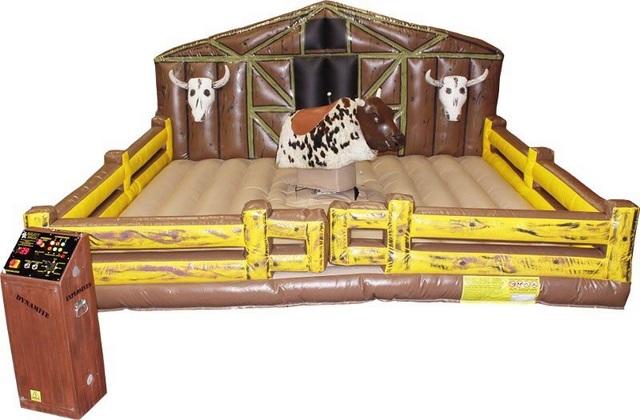 Mechanical Bull




$1,395.00

Please call to reserve this item.

Mechanical Bull Rental Chicago, IL
Bounce Houses R Us Event & Party Rental Illinois
1395.00 for up to 4 hours
addtional 225.00
Looking for an Awesome and entertaining addition to your party or event? The mechanical bull rental is what you have been looking for at your event! Bounce Houses R Us provides mechanical bull rentals in the Chicago area servicing cities such as Elmhurst, Park Ridge, Oak Park, Chicago, and more Illinois cities.
1395.00 for 4 hours
addtional 250.00
Let Em Ride Cowboy!!
How long can you ride the mechanical bull? Can you get in that perfect 3 second ride? Mechanical Bull Rental are a great way to get that bull riding experience without taking on the risk of the real thing. Spectators get as much enjoyment from this activity as the riders themselves. The fun memories of videos & pictures will be making themsevles around social media for months to come!!
Safety with your mechanical bull rental
Safety with Mechanical Bulls is so very important to us just like it is with other activities. Bounce Houses R Us maintains safety in many areas when running the bull and in the maintenance prior to your rentas.l Not all rental companies are equal in this area of the mechanical bull rental industry. We have been in party and event rental business in the Chicago, IL area since 2012. Our bull is surrounded by a 16' x 16' air mattress. This is inflated fully and the bull will never be run without that mat in place. The constant airflow allows the mat to be inflated and offer maximum protection at all times.

The bull's head and horns are added and are very soft. When riding the bull you will hold a rope instead of a strap or metal post. This makes for safer dismount from the bull if you fall off. There are various speed levels in which the bull operates. These different speeds allow riders of different ages, abilities and skill levels to safely enjoy the bull rental.
Trained Operators for mechanical bull rentals
There is a qualified and trained operator running Bounce Houses R Us mechanical bull at all times. The operator has been educated in the importance of mechanical bull safety. They are in control of the speed, the buck-and-spin, and the direction of the spin for every ride. Every ride is customized by our trained operators to ensure it to be fun and safe no matter what the age or skill level of the rider.
1395 for 4 hours
each addtional hour 225