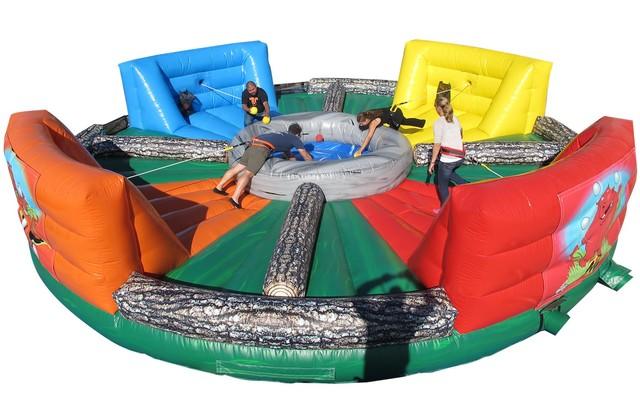 Hippo Chow Down
Hippo Chow Down Rental
Bounce Houses R Us Hippo Chowdown & Event Rentals Chicago, Il
Bounce Houes R Us offers this Hungry Hippo Chow Down Game that will take you back to the Hungry, Hungry, Hippos game you played as a kid. What a great game that was! Imagine playing the amped up Giant & Live sized version. Get ready...get set...time to see how hungry you are as a Hippo!
Hungry Hippo Chow Down game is the latest interactive game guaranteed to keep all participants and spectators laughing for hours and enjoying your event. This is the latest 4-player bungee style game that involves speed, strength, and agility. Object of the game: Once the referee blows the whistle, each of the 4 players starts from their back wall and races to the pond of balls in the center of the game to retrieve as many balls as possible and return with them to their mesh bag at their starting wall. Once all of the balls are chow'd down, the player with the most balls in their bag is declared the winner.
Specifics for Hungry Hippo Chow Down
It is for ages 5 to adult. It is a 30' X 30' round and 6ft. tall This game is geared for adults and teens to experience a high level of fun. The bigger you are, the harder you can pull the bungee cords and get to the middle quicker. Once you get to the middle, you want to grab the balls before going back to your home base. You can add this to any type of event and satisfy your participants. Teens and college age participants are the hardest to please on inflatable rentals. This game will satisfy their desire for fun! Give it a try at your next event.

Ready To Book the Hippo Chow Down?
To reserve the Hippo Chow down for your next event, click on the add to cart button below and then select your date and times, and follow the simplified directions to complete your order. The deposit you pay will go towards the rental price and it is subtracted from the total and not in addition to the total rental price. If you need assistance with placing your order, please contact us and we will do the booking for you and take your deposit over the phone. We are always available and happy to all of our customers. We service most of the Chicago Il, area for party and event rentals. Let us help with your party today.