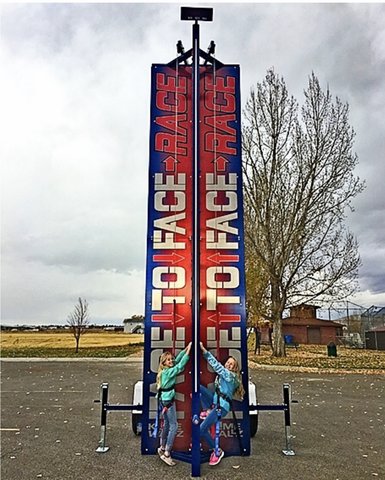 Face to Face Race Rock Wall
Attendants: 2 attandents included in the price





$1,395.00

Please call to reserve this item.

Face to Face Race Rock Wall Rental
Rock Climibing Wall rentals in Chicago, Elmhurst, Oak park, Park Ridge, Arlington Heights, Addison, and more Illinois Cities
Face to Face Mobile Rock Climbing walls in the Chicago metro area are our speciality. We specifically deliver to Chicago, Elmhurst, Oak Park, Park Ridge, Arlington Heights Addison, & more. Are you ready to go off the climbing grid? How fast can you climb to the highest heights? Bounce Houses R us offers this cool new Face to Face Rock wall Rental that will really amp up your next event. This Rock climbing wall is a 2 station Rock Wall Rental that will have competitors literally climbing face to face with each other in a competition like no other. Each Climbing Station has a clear view of their competitor and can see exactly what they have to do to beat them, but do they have what it takes to climb face to face? . Challenge yourself to get higher with each try until you finally make it to the top and hit that button! Fears of heights are no more with the confidence you will gain while participating in this attraction. Stare down your opponent as you race to the top of this 20 foot tall climbing wall. Speed climbing is set to be the next big Olympic sport. Give your participants a taste of the action with the face to face race that features a led timer that displays the winning time and an LED light strip flashes the color of the winning side People will see the tall rock from all around wanting to come and join your event. Don't miss out on getting this rock wall rental for yourself!
Face to Face Mobile Rock Climbing Wall Rental specifics
The Face to Face Rock Wall Rental requires the following space: 30′ wide x 30' length x 26' high. The minimum weight to participate is 40lbs and the maximum weight to participate in this attraction is 250 lbs. The Rock Climbing does require staffing from Bounce Houses R Us and is included in the per hour rental price. The price is based on a 4,hour rental. Each additional hour is $230.00 per hour. Book now if you would like to be sure this makes it to your event. It is great for schools, churches, and corporate events.
To Book the Face to Face Mobile Rock Climbing Wall Rental
You can now book easily by calling the office! You will receive an email confirmation soon after placing your order. If you need assistance placing your order or would like someone to help complete the order over the phone for you, please do not hesitate to give call us and we can complete your order and take your deposit over the phone. Bounce Houses R Us is family owned and operated, and we want to make you feel at home in using our business. to make your party perfect. We look forward helping your party climb to the top!.