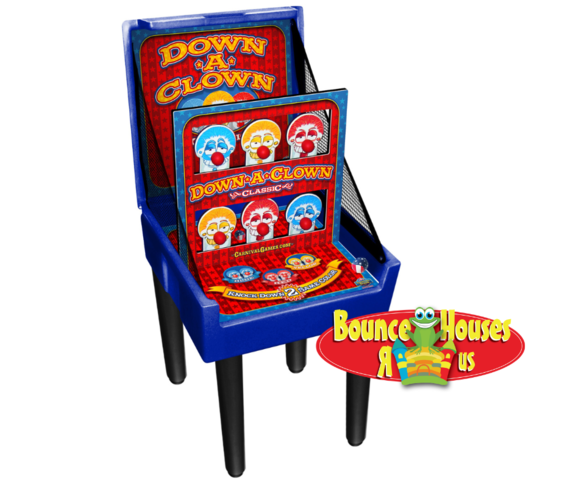 Down A Clown Carnival Game
Actual Size: 24"W x 30" Deep x 45" tall (approximately 3.75 feet tall) 
Outlets: None
Attendants: 1 Adult Supervision at all times




Down A Clown Carnival Game
Displayed Pricing = up to 6 hours of fun for a great low price.
Anything beyond 6 hours is charged an additional 25.00 an hour
overnight 95.00

Rent our Down A Clown Carnival Game for your next school event, church event, corporate picnic, or just for fun in your own back yard. Our Down A clown Carnival game rental is great for any event and is fun for all ages. It's time to Down A Clown!!! Toss the hacky scak balls and try to down a clown. You are a winner if you down the clown of the same colors.
How to play the Down A Clown Carnival Game
Have the Player stand a couple feet back. Each player gets 3 hacky sack balls to toss at the clowns. The player will win the game if they can knock down two clowns of the same color.
Down A Clown Carnival Game Specifications
The Down A Clown Carnival Game Set up with legs 24"W x 30" Deep x 45" tall (approximately 3.75 feet tall) The Down A Clown Carnival Game legs can be removed if you would like to set the Down A Clown Carnival Game on a desk or table. If you need them to be on tables we also have tables for rent.
How to rent the Down A Clown Carnival Game
The Down A Clown Carnival Game is very popular for school carnival, fall event, back to school events, church events, corporate picnics, and circus themed parties so it is best reserve the Down A Clown fun carnival game rental as soon as you know your date. Bounce Houses R Us has two convenient ways to book our Down A Clown Carnival game rental.
1.You can book fast and easily 24 hours a day online. Just click on add to cart, pick the date of your event, enter the start and finish time of your event (Max 6) hours and complete the check out process. You will receive a confirmation email and we will see you on your big day.
2. You can also call Bounce Houses R Us at 630-903-6800 during our normal business hours and talk to one of our trained party planners and they will be happy to answer any questions you may have and help you book a spectacular event.