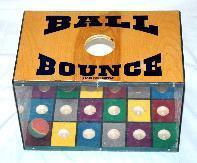 Ball bounce Carnival Game
Ball bounce Carnival Game Rental
Ball bounce
carnival game is fun to play!
Drop the bouncy ball into the transparent box and see if it lands on a winning color!
Drop the ball into the top of the box and let it bounce around. It will rest on one of several colorful squares. You define what the colors mean. For example, a prize, 1st place, 2nd place, etc.