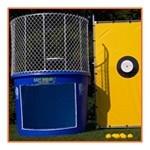 500 Galloon Dunk Tank Blue
Attendants: Adult Supervision at all times




500 Gallon Dunk Tank Rentals
Bounce Houses R Us has dunk tanks for rent. Our dunk tank has been delighting crowds for year. Dunk tanks offer hours of fun as you dunk each other. Is is so much fun to sit in the seat and wait with anticipation to be dunked. It is also great fun to be the one to throw the ball the dunks the perosn. the concept of dunking the birthday boy or girl, the boss, the gratduate, mom, or dad is a fun passtime at any event. You can also use out dunks as money makes and charge to dunk a local celebirty, politician, police, and firefighters. It surley is a money maker and great fun.
500 Gallon Dunk Tank Rental Specification
Our dunk tank must always have an adult operator when in use and as long as the dunk tank is filled. Keep all non-swimmers, anyone less than 5' tall and over 250 lbs off the dunk tank. Our dunk tanks hold 500 gallons of water and when filled weights over 4,500 lbs. The dunk tank needs to be set up where a water hose can reach to fill it up.
How to book our dunk tank rentals
Our 500 gallon dunk tank rental is a very popular for birthday parties, graduation parties, company picnics, block parties, and school fundraising events so it is best to reserve our 500 gallon dunk tank as soon as you know your date. Bounce Houses R Us has two convenient ways for you to book our 500 gallon dunk tank rental.
1.You can book fast and easily 24 hours a day online. Just click on add to cart, pick the date of your event, enter the start and finish time of your event (Max 8) hours and complete the check out process. You will receive a confirmation email and we will see you on your big day.
2. You can also call Bounce Houses R Us at 630-903-6800 during our normal business hours and talk to one of trained party planners and they will be happy to answer any questions you may have and help you book a spectacular event.
`